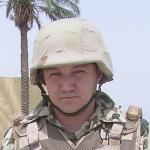 Information Resistance group has learned that a group of armed extremists of about 30 persons left Luhansk in 9 cars today. The objective of the group was staging provocations and performing acts of sabotage in the region.
The extremists arrived to the town of Stakhanov and mobilized local pro-Russian forces. In addition of using mobile emergency alert system to notify local separatists, the extremists broke into the local mine rescue station, a branch of the Paramilitary Mine Rescue Service GVGSS (ex-VGSCH) and used the force to turn a warning siren on.
Promptly, local pro-Russian citizens were mobilized, who started building a road checkpoint near the town administration.
Local bodies of the Interior Ministry have been alerted.