About the events in southern Ukraine of 2nd-4th of May
Scenario for the"South" –  Russian terrorist's actions go according to plan of Moscow. As foreseen, the situation in Odessa completely destabilized .
The tragic events in Odessa, provoked by pro-Russian extremists were also made possible because of the position and actions of the Odessa Police .
The fact is that for many weeks, local pro-Russian forces regularly performed provocations against patriotic part of the population. Local law enforcement officers in the best cases showed a complete disability to act, in the worst – actively supported the pro-Russian extremists.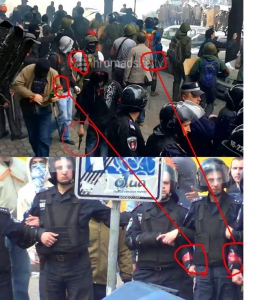 Events of May the 2nd began with the provocations of pro-Russian separatists with attacks against unarmed Ukrainian activists killing civilians and all subsequent events were caused by these murders.
Odessa police in these conditions behaved outrageously and unacceptably. We have evidence that in the period of preparations for pro-Russian provocations on May the 2nd, local law enforcement agencies had arrested a group of pro-Russian extremists. By order of the police chief of the city, they were immediately released.
During the clashes Odessa police provided security for pro-Russian terrorists who were able to freely shoot Ukrainian patriots from behind the policemen.
Only after this bloodshed hosted by separatists with the support of the police began, patriotic citizens moved into action, driving pro-Russian separatists into the House of Trade Unions where they barricaded themselves and continued shooting at unarmed citizens.
We hope that the investigation will establish exactly what happened in the House of Trade Unions and what was the cause of the fire which killed many people. But we have every reason to believe that responsibility for this tragedy lies entirely on those who originally initiated the event on May the 2nd and those who instead of performing their duties as law enforcement officers directly supported and assisted criminals.
At the same time the events of May the 4 when the prosecutor's office of Odessa region ordered to release the detained initiators of the bloody events saying that it was done "at the request of the protesters". This clearly indicates that the law enforcement officers of Odessa are not going to stop their criminal activities of supporting and aiding terrorists.
We have to emphasize the damaging role of general prosecutor of Ukraine, who has personally ordered the detained criminals to be left in Odessa instead of being urgently escorted to Kiev.
We want to remind the Ukrainian authorities that these events are only a "warm-up" for pro-Russian terrorists before the 9th of May. If you do not take immediate action today (including personal responsibility and leadership of law enforcement and prosecutors of Odessa region) – the tragic events of the last few days will repeat on a larger scale and not only in Odessa.
Group "Information Resistance "