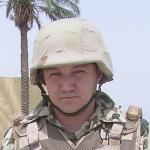 By Dmitry Tymchuk, Information Resistance group, 2014-05-06, 22:00.
According to fresh Information Resistance updates, terrorists, based at one of the Donetsk executive committees, have presently organized distribution of weapons to those wishing to participate in their armed provocations.
The terrorists brought the weapons with them.
We identified Russian subversives among those distributing weapons.
Meanwhile, terrorists have captured two officers from the local enlistment office in Dobropol rayon (district) of Donetsk oblast (region). In exchange for their release, terrorists are demanding 300 automatic rifles.