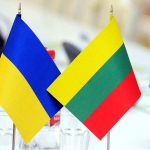 Dear ukraine.popo.lt readers,
We are glad to announce our new daily column – Lithuanian media round-up. There we will try to briefly summarize main Lithuanian events related with Ukraine crisis and covered by our press.
Lithuanian Prime Minister Algirdas Butkevičius on April 22 presented his Annual Report. PM mentioned Ukraine crisis in his Annual Report presenting speech at Lithuanian Parliament. He said: 'This year (2013-ed.) end showed that Europe transited to a new space of international relations and security. Former President of Ukraine decision not to sign association agreement with European Union caused in Kiev mass society protests, blood spill and change of Government. Unfortunately with that could not reconcile her neighbor Russia, which started war actions against Ukraine – annexed Crimea and continues to threaten Ukraine's integrity. We are observing a revival of opposition between democratic West world and fast growing radicalism in Russia'. (PM Press Office, unofficial translation)
Lithuanian Parliament on April 22 have had to consider a resolution project due support to Ukraine. Unfortunately Members of Labor Party suggested to cross out this plenary session agenda point and that after voting was accepted. As said Valentinas Bukauskas – member of Labor Party – 'this resolution project after Geneva agreement is outdated and Parliament need to prepare a new one'. (BNS, delfi.lt)
Lithuanian Minister of National Defense Juozas Olekas today in Kiev met with Ukrainian Minister of National Defence Colonel General Mikhail Koval. Read more in Lithuania Tribune: http://www.lithuaniatribune.com/67031/lithuanian-defence-minister-to-pledge-support-in-kiev-201467031/.
Lithuanian ambassador-at-large Vaidotas Verba appointed to lead Organization for Security and Cooperation in Europe (OSCE) Special Monitoring Mission group in Odessa. Read more in Lithuania Tribune: http://www.lithuaniatribune.com/67036/lithuanian-diplomat-leading-osce-smm-group-in-odessa-2-201467036/.