There are so many fake WWII veterans in Russia, Ukraine and other countries today. But many of them can be identified very easily – just analyze their decorations.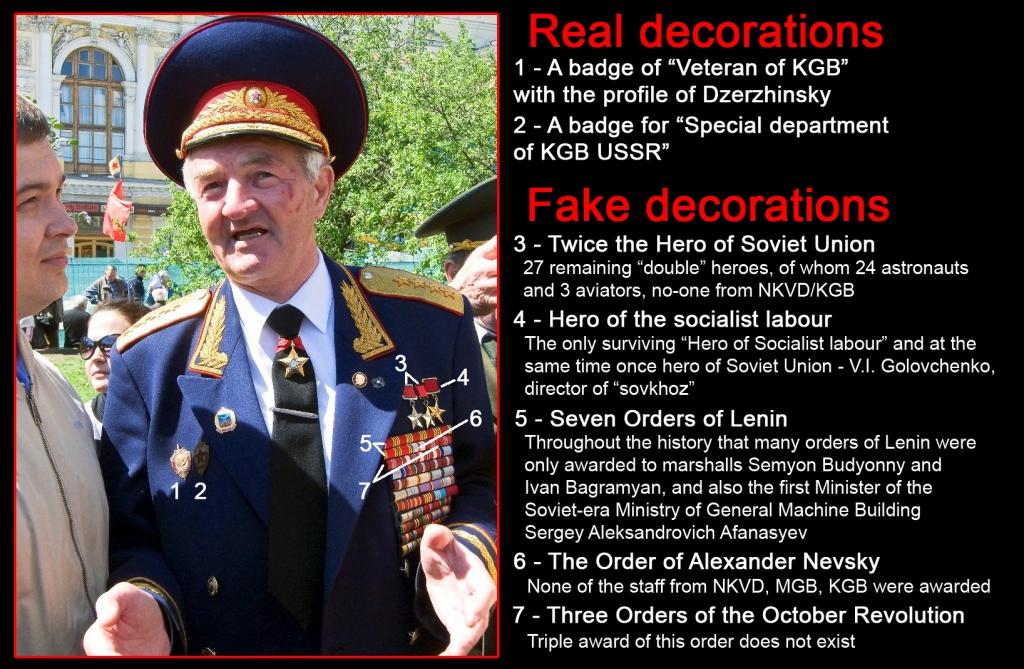 Real decorations
A badge of "Veteran of KGB" with the profile of Dzerzhinsky
A badge for "Special department of KGB USSR"
Made-up decorations:
3. Twice the Hero of Soviet Union
27 remaining "double" heroes, of whom 24 astronauts and 3 aviators, no-one from NKVD.
4. Hero of the socialist labour
the only surviving "Hero of Socialist labour" and at the same time once hero of Soviet Union – V.I. Golovchenko, director of "sovkhoz".
5. Seven Orders of Lenin
Throughout the history that many orders of Lenin were only awarded to marshalls Semyon Budyonny and Ivan Bagramyan, and also the first Minister of the Soviet-era Ministry of General Machine Building Sergey Aleksandrovich Afanasyev.
6. The Order of Alexander Nevsky
None of the staff from NKVD, MGB, KGB were awarded.
7. Three "Orders of the October Revolution"
triple award of this order does not exist.